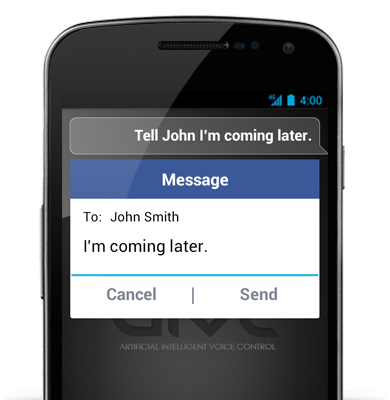 Commands
Ask AIVC to do things just by talking the way you talk. AIVC understands what you say and will perform the desired action for you on your cellphone. Say something like: "Remember me for my doctor's appointment tomorrow on 10 pm", "Tell my wife I'm coming later.". Create tasks, write messages, set your alarm, dial phone numbers and even more. Just tell AIVC what to do.
Research data
If you have any questions, AIVC is smart enough to help you. AIVC is able to research data and facts. When there is something you need just ask AIVC to help you and if AIVC doesn't know the answer try again in a short period of time because our system is constantly expanding its knowledge. Ask for definitions, the weather status, birthdays of your friends, the horoscope, the television program or just start your conversation and be excited about the answer.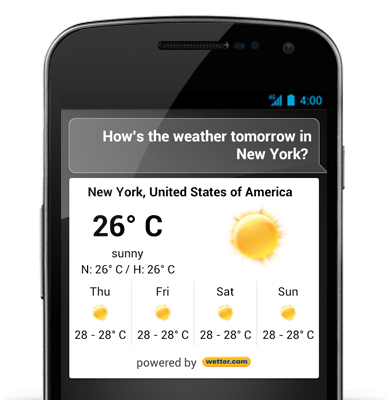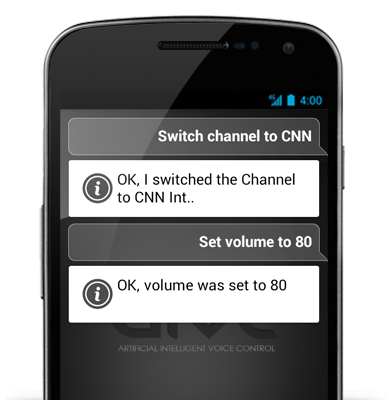 Hardware trigger
Control your hardware easily by voice. You can comfortably turn the light off in the living room, switch on the ventilator or let down the shutters - just by speaking. All this is possible with AIVC as long as the devices are accessible via a HTTP-Interface. Let yourself be surprised how AIVC will improve your daily life shortly.